Casting Couch Productions, LLC in conjunction with Adding Doses of Hope Daily Foundation will be launching a benevolent campaign called Footprints Across Haiti.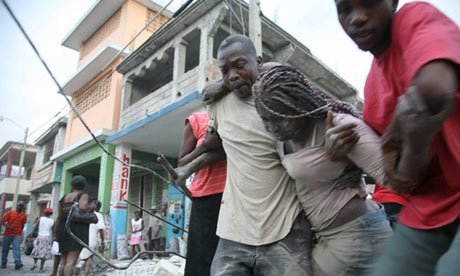 On January 12, 2010 Haiti suffered a catastrophic earthquake near the Haiti's capital Port-au-Prince.The earthquake caused major damage in Port-au-Prince, Jacmel and other settlements in the region. An estimated three million people were affected by the quake. Death toll estimates range from 100,000 to 159,000. The government of Haiti estimated that 250,000 residences and 30,000 commercial buildings had collapsed or were severely damaged.
About Footprints Across Haiti
The Footprints Across Haiti Campaign will address the concerns of the harsh Haiti soil by supplying much needed Haitians with proper shoes. Using a five step process people in Haiti will experience relief from the grim Haiti terrain. Footprints Across Haiti
Collect unwanted and used sneakers, work boots, and children's shoes
Inspect quality of shoes and sanitize shoes
Package shoes for shipping
Ship shoes to Haiti partners
Haiti Partners will distribute shoes to deserving individuals
Purpose:
Shoe Drive for Haiti
Location:
Ransom Everglades School
3575 Main Hwy, Miami, FL. 33133
Date & Time:
October 18, 2014 9am to 1pm
Contact:
Keith Harrell 786.777.8480
Monetary Support
In order to accomplish this goal we need your help. We are asking for donations that would help us reach our goal. The donation will help with storage, packaging, shipping and meals for volunteers.
Click here to donate.
About The Casting Couch
The Casting Couch is a TV talk show shot in beautiful Miami. This show is designed to give hidden talent in South Florida exposure. Although, the main premise is focused on entertainment the show will discuss social issues that affect our society. What makes the Casting Couch unique is that this show is totally interactive and social media driven. Casting Couch Television is scheduled to air May 2014. For more information visit www.thecastingcouchtv.com
About Adding Doses of Hope Daily Foundation
Adding Doses of Hope Daily Foundation's mission is to encourage, empower and elevate individuals and families with resources that will improve their overall mental and emotional wellness. Our goal is to encourage, empower and elevate each individual that is a part of our E³ Yourself programs. For more information visit adhdfdn.org
Sincerely,
Keith A. Harrell, MSM
C.E.O. / Executive Producer
Casting Couch Productions, LLC
Casting Couch Television